Opinion
Climate
Economy
Politics
Rights & Justice
War & Peace
LATEST 168开奖网站飞艇直播开奖官网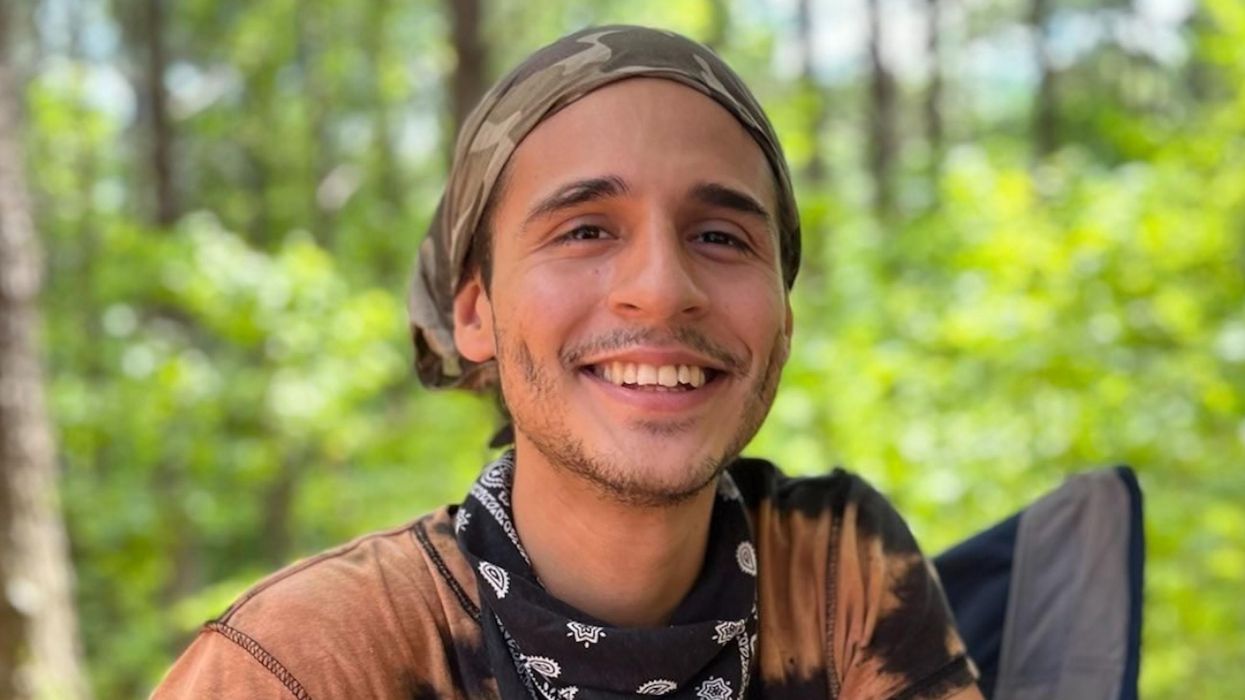 "The system has, once again, declared its own innocence," lamented one activist after a Georgia prosecutor's office said it would not charge the killers of Manuel Terán, better known as "Tortuguita."
Human rights advocates on Friday condemned a Georgia prosecutor's decision to not charge the state troopers who fatally shot forest defender Manuel Esteban Paez Terán—better known as "Tortuguita"—during a militarized January raid at a Stop Cop City protest camp outside Atlanta.
"The system has, once again, declared its own innocence," Stop Cop City activist Micah Herskind wrote on social media in response to the decision by the Stone Mountain Judicial Circuit District Attorney's office.
The Cop City Vote Coalition (CCVC) campaign said that "Tortuguita's memory and the memories of all those stolen by police killings demand that we all continue the collective struggle for a future without state violence."
Georgia State Patrol officers say they shot Terán after the 26-year-old Venezuelan activist opened fire on them, wounding an officer in the leg during the January 18 raid to evict protesters from the encampment protesting the $90 million, 85-acre Public Safety Training Center—widely known as "Cop City"—in the Weelaunee Forest just outside Atlanta city limits in DeKalb County.
According to a statement from Stone Mountain Judicial Circuit District Attorney Pro Tempore George Christian explaining the decision not to charge the troopers:

Terán... refused to comply with the lawful commands of the troopers to come out of a tent. The troopers used a 'less lethal' device known as a pepperball launcher in an effort to have Terán leave the tent. Terán responded by shooting four times his 9mm pistol through the tent, striking and seriously injuring a Georgia State Trooper. Six troopers returned fire resulting in the death of Teran.
"The use of lethal... force by Georgia State Patrol was objectively reasonable under the circumstances of this case," the prosecutor concluded.
A DeKalb County Medical Examiner's Office autopsy—which officials suppressed for months—revealed that Terán was shot 57 times and that there was no gunpowder residue on the victim's hands, which advocates say debunks claims that the activist fired first. There is no police bodycam video of the incident.
The Georgia Bureau of Investigation said that ballistics analysis proved a gun found at the scene of Terán's killing—a Smith & Wesson 9mm pistol GBI said the victim legally purchased in 2020—fired the bullet that wounded the trooper.
CCVC said that "from the start, the state's response to Tortuguita's murder has been to lie and cover up the facts."
"Today's announcement ruling the killing as 'reasonable' is just the latest in a long line of changing stories and withholding evidence," the campaign added.
Since Terán's killing, more than 40 Stop Cop City campaigners have been criminally charged as domestic terrorists, while over 60 activists have also been indicted under the state's Racketeer Influenced and Corrupt Organizations (RICO) Act—some for simply handing out fliers.
"These charges, like the previous repressive prosecutions by the state of Georgia, seek to intimidate protesters, legal observers, and bail funds alike, and send the chilling message that any dissent to Cop City will be punished with the full power and violence of the government," organizers with CCVC toldThe Appeal last month.
Friday's decision to not charge the troopers comes as CCVC attempts to get a referendum on the project on November's ballot. Although they've collected more than 115,000 signatures—more than double the number needed to qualify for the ballot—campaigners accuse Atlanta officials of voter suppression due to what they say is an onerous signature verification process created solely to thwart the initiative.
City officials are refusing to even start the signature verification process, arguing that the campaign may have missed an August 21 submission deadline. Although the deadline had been extended until September by a federal judge, an appeals court subsequently blocked enforcement of the extension, creating a state of legal limbo for the initiative.

News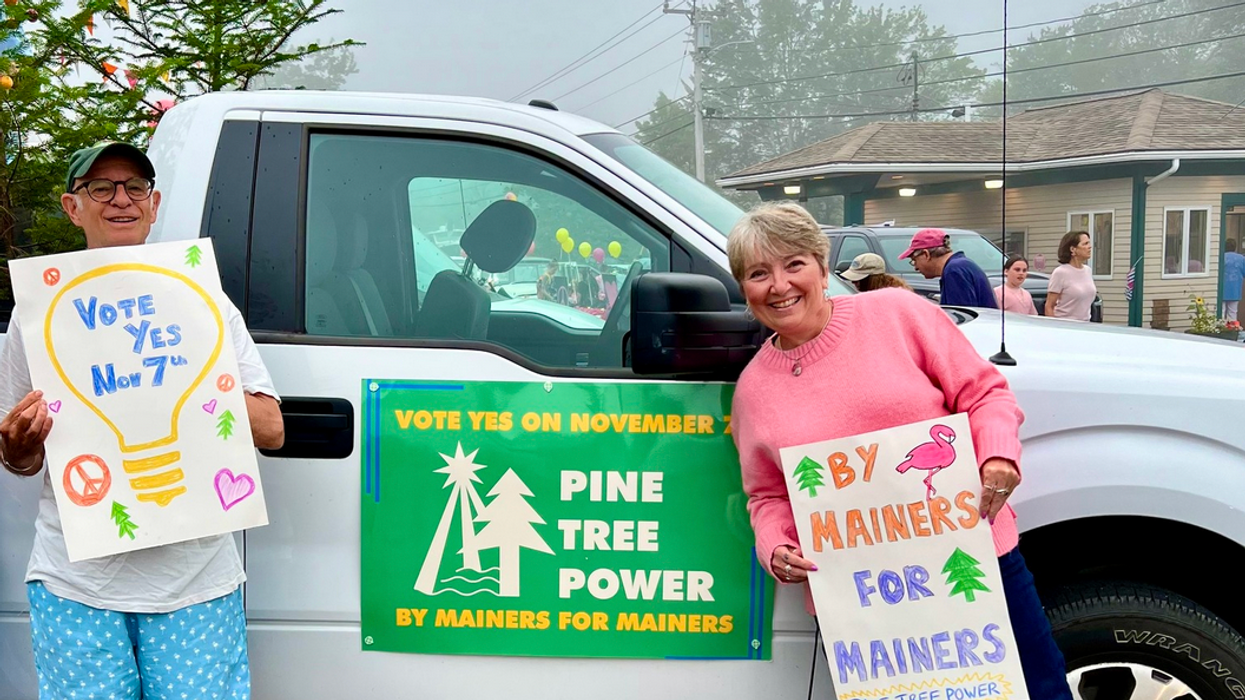 "Mainers have a rare chance to take control of an important part of their daily lives," said Sen. Bernie Sanders in his endorsement of Pine Tree Power. "Mainers can have cheaper, more reliable power—and help fight climate change at the same time."
As Election Day nears, climate and economic justice advocates in Maine and across the country are calling on voters in the New England state to approve an historic referendum that would initiate a public takeover of Maine's two for-profit utilities—a move which public power experts say could bring about a sea change in public utility ownership and lower rates for consumers while building resistance to fossil fuel infrastructure.
The "Yes on Question 3" campaign aims to create a new nonprofit company called Pine Tree Power, which would purchase Central Maine Power (CMP) and Versant. The two companies currently provide power to 96% of Maine customers. The new company would be run by a board of directors elected by Maine voters, which advocates say would make the utility far more accountable to consumers than the investor-owned utilities have been.

Proponents have pointed to local utility takeovers which have resulted in lower rates for consumers, such as the case of the Long Island Power Authority. The publicly owned authority reduced electricity rates by 20% for customers, according to the American Public Power Association (APPA).
The grassroots Pine Tree Power campaign notes that consumer-owned utilities (COUs) are not a radical new idea in Maine, as 10 COUs serve 98 towns across the state. When one of the COUs attempted to expand and provide more customers in Kennebunk with lower rates and more reliable service, CMP halted the effort, leading one resident to say they were being "held hostage by the country's worst power company."
"Whether we're new or lifelong Mainers, we know that our state is defined by folks who work hard for one another," reads Pine Tree Power's website. "Medical workers and mill workers, farmers and firefighters, loggers, and lobstermen, we all work together to power Maine. That's why we deserve a power company that works just as hard for us."
"But ever since our utilities were sold to the highest bidder, our communities have been falling victim to the tyranny of faraway corporations," it continues, noting that CMP's parent company is owned by a Spanish firm while the primary shareholder of Versant's parent company is the city of Calgary, Canada.

The U.S. Energy Information Administration says that average electricity prices across New England are some of the highest in the nation, rivaling only Alaska and Hawaii, with costs rising from 24.6 cents per kilowatt hour in June 2022 to 28.3 cents per kilowatt hour this past June. Meanwhile, Maine's electric utilities get low marks for reliability, with the state ranked 49th in the country according to a 2022 analysis by the Citizens Utility Board in Illinois.
Pine Tree Power says the new public utility would save ratepayers $9 billion over three decades—lowering rates by an average of $367 per household annually—while a 2020 study commissioned by the Maine Public Utilities Commission said rates would likely increase in the short term after the purchase of CMP and Versant, but come down over the long term due to tax savings.
As the APPA told the Rhode Island Current last month, 18 new local public power utilities have been formed in the U.S. over the past two decades, and "their rates are typically lower and their electric service is more reliable."

But companies like CMP and Versant, whose profits and rates have soared in recent years while service has declined, are able to pour their vast resources into their own campaigns "to discourage communities from looking at their options," Ursula Schryver of APPA told the Current. The utilities have raised more than $27 million to oppose the Yes on Question 3 initiative.
"They'll typically say it's going to be expensive, take years, and cost a lot of money," said Schryver, the group's vice president for strategic member engagement. "They're going to have PR campaigns [and] push legal challenges to drag it out and make it as expensive and as long and scary as possible."
Pine Tree Power noted on social media in July that the grassroots campaign has garnered small donations from more than 1,000 people, 90% of whom live in Maine.
In addition to spending tens of millions of dollars to defeat Pine Tree Power, the for-profit utilities are backing a separate referendum in November that, if passed, would stall the creation of the publicly owned company by requiring Mainers to vote on borrowing more than $1 billion in most cases.

Maine Affordable Energy, a group funded by CMP, claims the purchase of the two utilities would cost Mainers $13.5 billion, while utility lawyer Peter Murray estimated in the Portland Press Herald last month that the true acquisition price would likely be about half that amount, based on the investor-owned companies' Federal Energy Regulatory Commission filings.
One of the proposal's latest endorsements came from the Natural Resources Council of Maine (NRCM) on Wednesday, with the group writing in a position paper that in addition to saving Mainers money, the "transparency and local accountability" that a public utility would provide would be "crucial to an equitable, affordable clean energy transition."
"Sometimes it's only government that can get the job done," said NRCM. "Take for example Efficiency Maine Trust (EMT), an independent quasi-government agency formalized in 2009 for not dissimilar reasons to the Pine Tree Power proposal, to correct for the disincentive utilities have to invest in energy efficiency. EMT, now with an annual budget of $100 million, implements energy efficiency and alternative energy programs across Maine, invests in businesses and workforce capacity, and has become a widely trusted resource for information to inform personal and business investment decisions. Just imagine what EMT could accomplish if it were working with cooperative utilities."
The group added that low-cost financing available to COUs could help speed "an equitable clean energy transition" that includes "low- and moderate-income households and other underserved Mainers."

"Access to lower-cost financing can free up resources to build robust programs designed to overcome the social and financial barriers to energy efficiency upgrades, weatherization, heat pumps, zero-emission vehicles, solar, and battery storage, to ensure that vulnerable and marginalized people also enjoy the ways that clean energy makes our homes safer and more comfortable, affordable, and valuable," said NRCM.

The Pine Tree Power campaign has also been endorsed by 350.org, U.S. Sen. Bernie Sanders (I-Vt.), Sierra Club Maine, the Maine Organic Farmers and Gardeners Association (MOFGA), and the Maine State Nurses Association (MSNA).
MSNA argued in its endorsement that "access to clean, reliable energy is undeniably a public health concern," with power loss linked to higher mortality rates among elderly people, while MOFGA said "true sustainability will only be possible with a power company that puts the needs of our local communities above the profits of foreign CEOs."
"Power belongs in the hands of the people, not greedy corporations," said Sanders in July. "Mainers have a rare chance to take control of an important part of their daily lives. Instead of a private power system that last year sent $187 million in profits out of the country, Mainers can have cheaper, more reliable power—and help fight climate change at the same time."
While CMP has lobbied against renewable energy legislation, proponents of Pine Tree Power, including 350.org, say the publicly owned utility "is a direct way of targeting the fossil fuel industry."
"Returning power to the people and looking for big fights is where we can best show solutions and also resist the fossil fuel infrastructure," Candice Fortin, a campaigner with the group, toldThe Progressive in August.

News
"Parties missed a pivotal opportunity for developed countries to walk the talk regarding their commitments to combating the climate crisis," one campaigner lamented.
Climate defenders admonished several rich nations for falling short of the $10 billion fundraising goal set for Thursday's Green Climate Fund Pledging Summit in Bonn, Germany, with the United States singled out for what one campaigner called its "glaring and inexcusable" failure to contribute this round, even as the climate emergency worsens.
The Green Climate Fund (GCF)—established in 2010 under the United Nations Framework Convention on Climate Change (UNFCCC) to finance projects in developing nations to help them adapt to the climate emergency—presented an opportunity for wealthier nations to make new and increased pledges ahead of the U.N. Climate Change Conference, or COP28, which begins November 30 in Dubai.
However, Thursday's summit raised just $9.3 billion, falling short of its $10 billion goal and coming nowhere near the $200-$250 billion the UNFCCC estimates is needed every year until 2030. Twenty-five countries promised to donate to the fund, with Denmark, Ireland, and Liechtenstein doubling their previous pledges.
Germany and the United Kingdom promised $2 billion apiece. France offered $1.7 billion, while Japan said it would contribute $1.1 billion. Australia, Switzerland, Italy, and Sweden said they were working on their commitments and would donate later.
The U.S.—which previously pledged $3 billion—also signaled its intent to contribute, but offered nothing on Thursday. China, the world's largest polluter, did not pledge.

"Time is not on our side. And promises made must be promises kept," Selwin Hart, special climate adviser to U.N. Secretary-General António Guterres, said in a statement following the summit. "This is the only way to rebuild the trust needed to confront the climate crisis."
Harjeet Singh, head of global political strategy at the advocacy group Climate Action Network International, said in a statement that "the Green Climate Fund, envisioned as the lifeline for climate action in developing nations, is held back by the indifference of wealthy countries."
"It's vital to underscore that public finance is key to ensuring vulnerable nations receive the support they need, particularly for boosting adaptation efforts," he stressed.
Singh continued:

While Ireland's 150% pledge increase is praiseworthy, the tepid commitments—or outright stagnation—from nations such as Japan and Norway are deeply concerning. Some countries, like Sweden, seem to sidestep their obligations by urging developing nations to contribute to the fund. The silence of the United States, even as it participates on the GCF Board and shapes policies without meeting its financial obligations, is glaring and inexcusable.
"With COP28 on the horizon, the GCF replenishment conference has fallen short of expectations," he added. "However, it's important to remember that nations are not restricted to making pledges only during set intervals; they can and should step forward with contributions at any time to support climate action."
Tara Daniel, senior program manager at the Women's Environment and Development Organization, said that "today, parties missed a pivotal opportunity for developed countries to walk the talk regarding their commitments to combating the climate crisis."
"As the flagship fund for implementing the Paris agreement, one that prioritizes adaptation as much as mitigation, and governed more equitably than multilateral development banks, the GCF is central to our collective efforts to achieve transformative climate action," Daniel asserted.
"Unfortunately, the pledging conference today showed that while climate impacts continue to increase, collective climate finance through the GCF has not increased," she lamented. "The U.S. in particular has failed to put any money where its climate rhetoric is."
"Yet the opportunity is not irrevocably lost; the pledging conference does not have to be the end of the road," Daniel added. "We wait to see if COP28 unlocks the ambition the world needs and deserves."
News
Oct 07 2023 · 06:24pm EDT
Oct 06 2023 · 05:14pm EDT
Oct 06 2023 · 03:21pm EDT
Oct 06 2023 · 02:54pm EDT
Independent, nonprofit journalism needs your help.
Please Pitch In
Today!